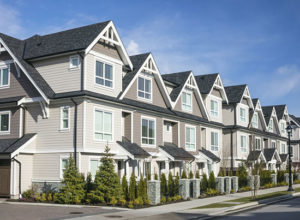 Most homeowners understand the importance of protecting their assets with homeowners insurance. However, if you own investment properties, a standard homeowners insurance policy may not provide the scope of coverage needed to protect your investments.
Here is everything you need to know about landlord insurance.
What is Landlord Insurance?
Landlord insurance is a policy for someone who rents out a property they own. Typically, landlord insurance includes both property and liability coverage. Compared to owner-occupied properties, investment properties face unique challenges and risk factors. For example, rental properties often remain vacant between renters, for weeks or months at a time. During this time, these properties potentially attract vandals, squatters, vagrants, and pests. Any of which can lead to property damage.

In the event that a squatter or vagrant becomes injured on the property, the landlord could face legal ramifications. If an investment property is not properly insured, the landlord could become exposed to great liability. Landlord insurance is designed to protect investment property owners in the event of unforeseen damages to their property.

Landlord Property and Liability Protection
The property protection in a landlord insurance policy protects the physical property related to the home or property being rented out. This typically includes the dwelling itself and any equipment kept on site to maintain it the property (i.e. a lawnmower).

The liability portion of a landlord insurance policy is designed to protect the landlord in the event someone is hurt on their property. In the event that a landlord is found liable for an injury, liability insurance will pay for the individuals medical bills and any associated legal expenses.

For example, if your tenant falls down stairs at your rental property and a court determines that you failed to maintain the stairs or railing, you could be held responsible for your tenant's medical, legal and other costs. In this scenario, landlord liability coverage may help cover those liabilities (within the limits of their policy).

Depending on the neighborhood, geographic area, or condition of the rental property, landlords may want to consider adding optional coverages to their landlord policy. These additional coverages may include protection against vandalism and burglary.

Depending on the policy, landlord insurance may cover the following –

Loss due to damage caused by fire, smoke, storm, natural disaster, etc.
Loss due to a tenant's injury (i.e., their medical bills and legal fees).
Loss of rent due to property damage caused by a natural disaster or fire.
Loss of use (i.e., funds to help a tenant rent temporary housing if their rental becomes uninhabitable).
Coverage for additional property structures, such as a garage or storage shed.
Is Renters Insurance the Same as Landlord Insurance?
Renters insurance is not the same as landlord insurance. In fact, landlord insurance will not protect tenants belongings. It's essential for tenants to carry renters insurance, as it will protect their belongings in the event of a fire, flood, or other unforeseen circumstances.

We highly recommend educating your tenants about renters insurance, especially if you're dealing with first-time renters who may be under the impression that the property's insurance will cover their possessions. Additionally, landlords should add a renters insurance clause to their lease to ensure all tenants are enrolled in a policy that will provide complete coverage for damage caused by the resident's negligence.

Depending on the policy, renters insurance –

Protects personal belongings against damage caused by fire, smoke, natural disasters, theft, vandalism and more.
Protects valuable personal property in the event of theft (such as jewelry, computers, and electronics, etc.).
May provide temporary living expenses should the rental residence become uninhabitable due to fire, storms, or other catastrophic events.
May protect personal belongings in tenants car.
The Bottomline
Landlord insurance policies vary based on the location of the investment property and the insurance company that's providing the coverage. In general, the idea behind landlord insurance is to offer a range of coverage for owners of rental properties.

A typical landlord insurance policy may include coverage against property damage, liability against tenant lawsuits, medical expense coverage in the event someone is injured on your property, as well as rental reimbursement in the event a landlord can't find paying tenants because of property damage.

As with all areas of life, it's better to be safe than sorry. If you are interested in learning more about protecting yourself with landlord insurance, contact a member of our team today.