Hello everyone,
I am thrilled to share the exciting news that Petra Insurance Brokers has been honored with the prestigious title of the fastest growing insurance brokerage in the UAE. This remarkable achievement was bestowed upon us by the esteemed Global Business Outlook Awards. It serves as a testament to our unwavering commitment to progress and excellence.
This accolade joins our collection of esteemed awards, including "The Best Business Insurance Broker" and "The Most Reliable Broker." Each recognition reinforces our position as industry leaders, fueling our motivation and determination for the future.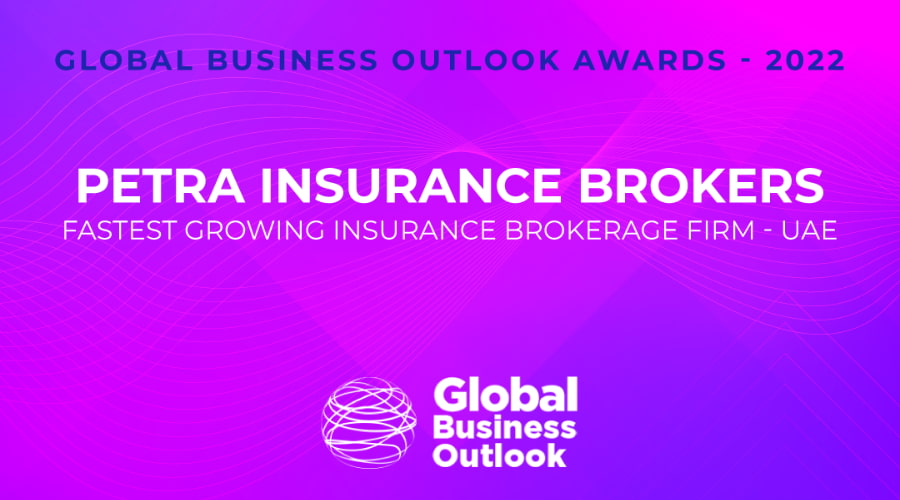 However, our journey doesn't end here. We are constantly pushing boundaries and embracing innovation. We have made substantial investments in cutting-edge technology, forging unique insurance partnerships, and optimizing our efficiency through world-class processes and procedures. Collaboration lies at the heart of our approach, enabling us to not only benefit our valued clients but also contribute to the betterment of society and how it perceives risk.
Our dedication to growth and our unyielding pursuit of excellence remains unwavering. We are grateful for the support of our clients, partners, and the hard work of our team, which has made these achievements possible.
As we move forward, we invite you to join us on this exciting journey of continual improvement and positive impact. Together, we will shape the future of the insurance industry and create a safer and more resilient society.
Thank you for being a part of our success.