Insurance acts as a great and powerful force behind the screen, protecting against the loss of life and limb; the intellectual property of directors and writers; the potential liability of location shoots; and the substantial investment of the producers. However, from the other side of the screen, viewers are also entertained by interesting, exciting, and frightening plots centering around the insurance industry and insurance claims.
Let's take a look at some of the best movies and television shows featuring the insurance industry.
'Lloyd's of London' (1936)
Starring – Tyrone Power
Directed by – Henry King
Determined to make something of himself, Jonathan Blake (played by Tyrone Power) is a waiter at Lloyd's Coffee House in the early days of the shipping insurance firm Lloyd's of London. Determined to make something of himself, he joins the Lloyd's organization and goes on to become a wealthy and successful man.
Thanks to his newfound wealth, Jonathan ends up being able to help his childhood friend, Lord Nelson, to help win the Battle of Trafalgar by keeping the ships' insurance rates down. Aside from the entertaining plot, Lloyds of London gives us a fictional, yet plausible, look at the beginnings of what would go on to become the world's leading authority on insurance.
'Double Indemnity' (1944)
Starring – Fred MacMurray, Barbara Stanwyck, and Edward G. Robinson
Directed by – Billy Wilder
Los Angeles insurance agent Walter Neff (played by Fred MacMurray) is seduced by his client's seductive wife Phyllis, and together they trick her husband into signing a life insurance policy. Once he signs, they orchestrate a plan to make his death look like an accident, allowing Phyllis to cash in twice on the policy under the double indemnity clause. However, the plot thickens when the insurance company's claims adjuster smells foul play.
An important takeaway from this film: be sure to read the fine print on your insurance policies or any legal document before you sign them. You never know what you might find there.
'Alias Jesse James' (1959)
Starring – Bob Hope, Rhonda Fleming, and Wendell Corey
Directed by – Norman Z. McLeod
Flashback to the wild west when an incompetent insurance salesman, Milford Farnsworth (played by Bob Hope), sells a man a $100,000 life insurance policy. When his boss learns the man who purchased the policy was none-other than Jesse James, he sends an understandably nervous Milford after the outlaw to buy back the policy. The lesson learned here reminds us that when you sell someone a policy, you'd better make sure they are who they say they are.
'The Rainmaker' (1997)
Starring – Danny DeVito, Matt Damon, Jon Voight, and Claire Danes
Directed by – Francis Ford Coppola
At its core, this classic film is about a corrupt insurance company facing off against a young, idealistic lawyer. A classic David vs. Goliath story, The Rainmaker follows a small-time lawyer facing off against a giant insurance company and its army of attorneys. Newby lawyer Rudy Baylor (played by Matt Damon) and his seasoned partner Deck Shifflet (played by Danny DeVito) take on Great Benefit Insurance over a denied claim for a bone marrow transplant on a 22-year-old man dying of leukemia.
The two small-time lawyers face off against Great Benefit's imposing attorney Leo F. Drummond (played by Jon Voight), who tries to leverage his judicial ties to see the case dismissed. However, when the presiding judge dies suddenly, his successor, a former civil rights attorney, allows the case to continue.
'The Truman Show' (1998)
Starring – Jim Carrey
Directed by – Peter Weir
A satirical comedy taking place before the popularity of reality television, the Truman Show stars Jim Carrey as Truman Burbank, an insurance salesman/adjuster who discovers in his 30th year that his entire life is a television show. Although the plot does not center around an insurance claim, it's a funny comedy that sheds light on what it is like to have one's realty turned upside down.
'Breaking Bad' (2008-2013)
Starring – Bryan Cranston
Creator – Vince Gilligan
When discussing insurance, you'd be hard pressed not to mention Breaking Bad. When a mild mannered science teacher falls ill and the medical bills start to pile up, he turns to drug dealing to provide for his family. As the plot progresses Walter's desperation drives him to commit some pretty terrible and unspeakable acts of violence, including poisoning a child, assassinating ten prisoners in less than two minutes, and blowing up a nursing home (to name a few).
However, Walter's string of gruesome acts all stems from one initial bad decision: not taking out a life insurance policy for his family's benefit. If Walter had invested in a life insurance policy before he became ill, he would have adequately provided financial support for his family after his death. The lesson here? Protect your interests and plan ahead and you may avoid a life of crime.
Petra Insurance Solution
While insurance plays a vital role in our real lives, we often overlook the role it plays in our entertainment. The next time you go to a movie or flip on the television, keep your eyes peeled for any signs of the insurance industry. If you are interested in learning more about cyber insurance to protect your company in the event of a cyberattack, contact a member of our team today.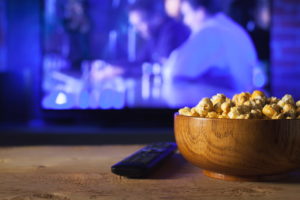 You can also reach us on Facebook, Instagram, Twitter, and LinkedIn.